Mini Skips
Large walk In Skips
Fast Delivery
Whether you are looking to clear out your shed after spring cleaning or you need a large walk-in skip for a building project we have the solution. Our fleet of trucks and drivers are flexible and responsive to ensure your experience with us goes smoothly. We have connections with the local counsel to ensure the placement of bins whether on your property or on the street is safe and legal. We pride ourselves on being reliable and punctual to ensure you have an A+ experience. We also take the responsible disposal of your waste seriously so you can be sure your garbage doesn't have a negative impact on the environment. 
The waste removal industry in New South Wales is competitive, this is why we don't mess around with our pricing and can guarantee the most affordable and reasonable quotes in all of Wollongong! If you're looking for cheap bins you've come to the right place. In fact if you find a better price from a reputable competitor we will beat it by 5% Don't waste too much time calling around because we have both the fastest delivery times and most affordable service. 
We're committed to winning your business and creating a great partnership for our mutual benefit. If you're stoked on our service and our price, we know you'll be back in the future and that's how our business thrives. We have built long term partnerships with numerous local business owners and are more than happy to talk discounts for recurring skip bin rental. 
Our skip bins can be used for almost any kind of rubbish removal. Including but not limited to: hard rubbish such as broken furniture and old TVs, industrial materials and building materials such as hardwood, metal, glass, plastics, concrete, bricks and ceramic tiles. We also cater for green waste removal and can provide an environmentally friendly option for removing materials mentioned above such as wood, paper, sand, turf, grass, branches, leaves, plants and tree stumps. 
One of the most common excavation inquiries we receive is for soil removal and dirt removal. At our yard we carefully sort skip bins with mixed waste types to ensure everything is disposed of safely and in the most eco-effective way.
There are certain hazardous waste types that we cannot remove for you. These include things like gas bottles, asbestos, poison, oil, gas bottles, paint, etc. Please check the most common 3 types of waste categories below and make a note of which category suits you. If you are unsure of what category your waste fits into, give us a call and we'll be happy to help.
Light Hard Rubbish – this includes materials such as: whitegoods, chairs, tables, couches, paper, toys, cardboard, plastic, TVs, computers, etc
Light Builders Waste – this includes materials such as: treated pine, plaster, timber, metal sheets, cardboard, plastics, green waste, etc
Mixed Construction Waste – this includes materials such asL brick, tiles, concrete, soil, paster, glass, lard, sand, etc.
Depending on your project, you may want anything from one of our 2m mini skip bin to a medium or large 20m+ bins. Our larger bins are equipped with walk-in ramps so you don't have to throw trash over the edge and strain your back. This also makes it easier to stack your scraps and get the most out of your bin size so it doesn't overflow onto the ground. Get the most out of each load by stacking your waste efficiently. We have another page dedicated to the bin sizes we currently have available in Wollongong.  If you are unsure of which skip size you need, give us a call now and we'll be able to talk you through the most suitable and cost effective option.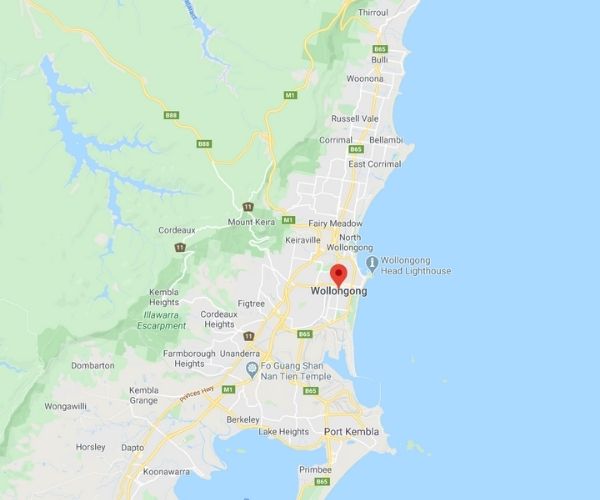 We have been serving the Wollongong and Illawarra area for more years than we'd care to admit! From schools and office projects to home renovations and hard rubbish removal, we have a skip bin to fit your space and take away the headache of multiple trips to the tip. Our delivery and pickup drivers know the local Wollongong area extremely well and will find your property quickly and easily after booking with us.
Please check out our service areas page to check if your suburb or postcode location is within out zone. If you don't see you area on the list mention it to the team and we'll help you find a solution. 
If you have a larger building project whether that be commercial, industrial or residential, we have a range of walk in skips that will make your waste management a breeze. Depending on the current state of your work site, we may need to place the bin on the nature strip or footpath. This requires approval from the council which we have plenty of experience in acquiring. 
If you would prefer a smaller skip bin that can fit on site and to have it emptied on a more regular basis throughout your project we'll be happy to compare sizes and costs to find the best solution for your job. You can be sure we have enough cheap bins available to suite your project. Get your skip hire sorted today so you can get started on the real work!
Obviously demolition is one of the most waste intensive jobs we deal with. Having a reliable waste management company with fast delivery times and punctual pick up scheduling is a must to ensure your projects run smoothly. There's nothing worse than having your team on site and being unable to continue work because the skip bin driver is late. This can be a costly delay and is not something we allow. We respect your time and money and look forward to having you re-book with us in the future after you've had a seamless first experience. Make sure to mention to the team if this is your first skip bin hire with us as we might have a thank you discount available. 
If you're a landscaper you're well aware of the amount of waste that needs to be removed from your site in order to finish your project quickly and efficiently. We take all kinds of green waste plant materials such as grass, soil, branches and logs. If you have a big job in a small space, we have an express service option to empty your selected skip and return it for a second load on the same day. This way you don't have to park a giant skip in the driveway and upset the residents of the property while you work. As mentioned above we do have counsel contacts if a skip is required to be placed on the street or nature strip.
Landscaping jobs often produce more biodegradable and recyclable materials then general demolition or construction. So if you're looking for green waste removal It's a great idea to go with a company that manually sorts different rubbish types before permanent disposal. If you need junk removal Sacramento these guys also provide manual sorting before disposal. This is the kind of sorting we offer which means materials that can be recycled don't end up in landfill with general rubbish. If having a minimal impact on the environment is something you or your company stands for, make sure to book with us.